Date:04-Jan-2020 — 12-Jan-2020
EVENT: All India Youth Camp—Inner Flights
WHERE: Society House, Sri Aurobindo Society, Puducherry
LAST DATE FOR APPLYING: October 30, 2019
AGE RESTRICTION FOR APPLYING: 18 – 28 years
MINIMUM CONTRIBUTION: Rs. 5,000/- (Includes accommodation & food provided by us during the Camp)
What this Camp is About
There is a need to address the spaces within us, within our minds and hearts and dreams and aspirations. We must address these spaces, if we are to do anything of substantial value on the outside. If you are somebody (or know somebody) who wishes to deep dive within and unearth the galore of potential and unique gifts we all come with, then this Camp is the right place to be.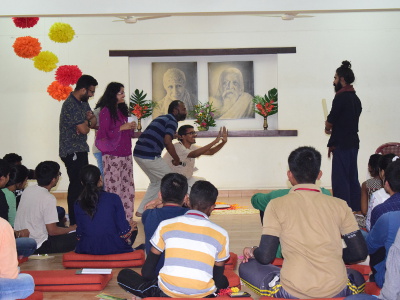 Come along and surrender to the process. Interact. Agree to what feels right and disagree and discuss till you get to what feels right. Listen and Share. Meet people like you and unlike you. Adjust. Unlearn and learn with the help of the facilitators, the intense atmosphere here in Pondy and your own willingness to partake of this collective journey. Be prepared for intellectual stimulation, emotional churning and physical rejuvenation as we spend 9 days exploring concepts relevant to our lives, relationships, careers and choices along with a deeper exchange through spaces of silence and quietude.
Do not come expecting out of this Camp anything but heightened self-awareness, a rhythm of review and silence, clarity of thoughts, channelizing of emotions, memories of spectacular sunrises at the East Coast of India and new friends from across the country. Definitely do not come if you're looking for a cheaper alternative to a Goa trip. The processes we undertake are deep, personal and require immense discipline and respect.
These camps are being organised annually by us for the past 33 years and have been inspiring and transforming young lives all over.
Can I Apply?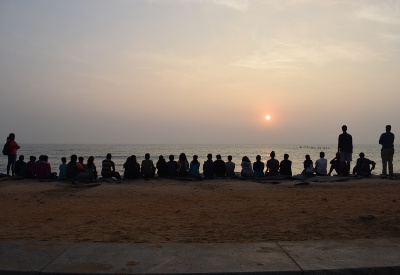 Yes, if you are between 18-28 years of age and are willing to accept that several others like you are coming to this because they're serious about growing and evolving
You have not attended this camp earlier
You must have a working knowledge of English as the sessions will be conducted in English
Come with an open mind. With a willingness to learn. Even more willingness to un-learn. No fussing about simple vegetarian food and basic lodging arrangements at our guesthouse that we provide!
Our sessions are from early morning to late evening; so, come prepared.
Camp Contribution: On selection, a minimum contribution of Rs. 5,000/- per person to be made. For those who for specific genuine reasons are unable to make the requisite contribution, please write to us separately by e-mail, to know of the options we provide.
Application Form
Download the Application Form (click to download), fill it up and send it to us by courier/e-mail. Or, apply online using our online application form.
Late applications received will be considered only if seats are left; so check up with us before you send late application forms.
Those selected for attending the Camp will be informed by e-mail, latest by 4th Nov. 2019. We reserve all rights of admission.
Cancellation: In case of cancellations made by participants before 15th Dec. 2019, Rs. 3500, will be returned.
Camp Venue
For the first 6 days, we will stay in Puducherry city and the last 3 days, we will be on a Retreat in our serene and eco-friendly lakeland 'Sharanam — National Centre of Excellence' which is about 10 kms. from the Puducherry town.
To know more of the 'Pondy Experience', visit: http://www.aurosociety.org/society/index/About-Puducherry
An Important Note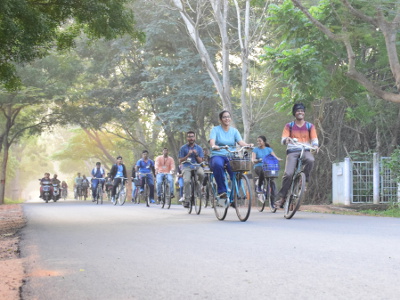 We love meeting new people each year and do everything in our capacity to ensure that this whole learning process is fun and eventful. However, failure to comply with certain non-negotiable guidelines and rules will result in immediate suspension from the programme.
The venue for the programme and the places we will be visiting are in and around the Ashram area and Auroville – both are places of Sadhana, of silence and inner work. It is essential to respect our surroundings to guarantee the success of this collective journey.
About the Main Facilitators
Shivakumar, Director, AuroYouth (Youth Wing of Sri Aurobindo Society) has been organising the national youth camps for the past 18 years at Sri Aurobindo Society, Puducherry.
Shivakumar grew up in Kerala. After his graduation in Engineering (Mechanical), a diploma in Computer-Aided-Design, and a 5-year stint in the corporate world, he decided to take a break from formal work and started engaging himself in full-time study and practice of Indian spirituality, especially the Integral Yoga of Sri Aurobindo and the Mother. He's known to be calm in raging storms and also to facilitate the storms that rise within us all.
He came into contact with the Sri Aurobindo Society and joined it in 2001, to be part of its objective of working towards a global spiritualised society as envisioned by Sri Aurobindo. He is also part of its educational team.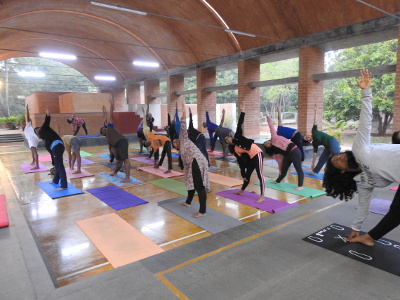 Riddhi Shah, is known for many things, among which following her heart's path and her love for questioning all things taken for granted, are two. Experienced in people processes, community building and learning from mistakes, she has worked relentlessly for over 13 years in various spaces such as Education, Empowerment and Ecology. When she's not cross-questioning Gram Panchayats and authorities or doing workshops for Principals and teachers, she can be seen painting walls with jail inmates or singing songs with soldiers near the border.
Uncaring for society's approval or permission, she has walked on her path unapologetically, positively impacting lives in over 15 States of India and close to 3000 schools, organisations, institutions and collectives.
Though she hails from Mumbai and lives out of a suitcase, Puducherry is what she calls home for reasons you will know when you come here.
A glimpse from last year's Youth Camp: http://bit.ly/2Ui2bPt
Some feedback from our last year's youth camp 'Undiscovered Shores – 2019':
The camp was filled with calm and intense energy and it did not dip at all during the whole of the camp. … we felt a connection with ourselves + stars + universe + galaxy!
—Akhila Bandi
My belief in the Divine increased and I would love to come back. The Auroville trip was the best experience! The people I met there, the Peace! I was one with me! The Banyan tree! That day would forever be dotted in my memory. And I'm going back…
—Nivedita Raghupal
Inner Stillness, Fearless Shore, dance, music, drawing in Nature – all of these sessions pushed my limits and allowed me to be what I want to be. Vande Mataram and dance sessions: Best! Best!! Best!!! Can we have 5 more days to have more sessions with all the facilitators.
—Rithwik M Singh
The seamless flow from topic to topic involving not merely individual but also collective participation, lead to 30 hearts & heads working together! The camp was inspirational.
—Abhinav Kadambi
Last 3 days at Sharanam: It changed my perception of beauty, of concentration, of life, of Nature, and I discovered myself and how to live. Truly live. And I just want to say that this camp has changed my life!
—Sindhuja Khare
In search of calmness, I look for triggers outside and allow them to affect my calm. Through the Camp, I realised that the bright light within us has to be heard and nurtured; it is indeed our Guide, our Friend. I was able to believe myself a little more, trust and be fearless, remove my own inhibitions. I really, really hope to carry the Light forward.
—Palak Dubey